In Publication:
Newly Released, from SEED CENTER:
SEED CENTER BOOKS presents a book of  POWERFUL ANSWERS, which, until now, seemed well out of our reach.
LOVE and PAIN,  A Map of Consciousness by Thaddeus Golas, ©2008, Seed Center Books/Even Lazier Publishing Ltd. Now available in Europe and across the World!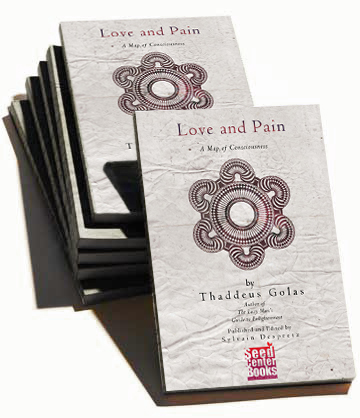 Author
Thaddeus Golas
, known for his classic manual on human consciousness,
The Lazy Man's Guide to Enlightenment (Seed Center, 1972)
returns to publication 40 years after he delivered the simplest, most powerful, and effective, spiritual handbook ever written.
"I thought Love and Pain might short-stop the blind submission to charismatic leaders by people who took good feelings as evidence of spirituality."  

~ Thaddeus Golas on Love and Pain.


Love and Pain
The Collected Works of Thaddeus Golas Vol. 3

By author: Thaddeus Golas
Product Code: ccb-003
ISBN: 978-0-9830574-2-0
Size: 5″" X 7.6″" Inches – 176 pages.
Availability:  Book in print/available
Thaddeus Golas: Author, Poet, Philosopher.
Thaddeus Golas
(1924 ~ 1997)  American author, poet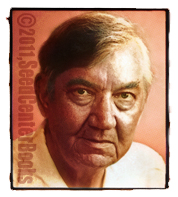 Born in 1924 in Paterson, New Jersey, to Polish Catholic parents,
Thaddeus Stanley Golas
was a child of Einstein's Relativity but also of the Great Depression. He served a long European tour of duty in WWII, and was in Patton's Third Army in Antwerp, but narrowly avoided combat at the Battle of the Bulge. The G.I. Bill helped him earn a BA in General Humanities from New York's Columbia University where he studied under
Jacques Barzun
, among notable others.
He went on to work as a proofreader for Betty Ballantine, as an editor for The Tatler newspaper in Paterson NJ., a book editor for Redbook, and later, in Oklahoma, as a sales representative for Harper & Row. He saw the rise of the Beat Movement in Manhattan, with its onset of mind-altering substances. His ideas on human consciousness had gathered over many years of pondering Eastern Mysticism and popular Quantum Science; when he moved to California in the '60s, he was encouraged by Alan Watts, Timothy Leary, and former high school mate Allen Ginsberg to self-publish his Lazy Man's Guide to Enlightenment.
Thus, it was in the psychedelic maelstrom, in the midst of San Francisco's Haight-Ashbury turmoil at the start of the Seventies, that Thaddeus Golas achieved recognition as a major philosopher. He stood on street corners with his third wife Nancy Monroe, come rain or come shine, selling copies to passersby to make ends meet. The Lazy Man's Guide to Enlightenment caught-on like wild fire, and Golas, the reluctant guru, became a bit of a sensation.
His book remained in print for nearly 30 years.
Often shunned by members of the New Age community for his biting criticism of their manipulations, Thaddeus Golas remained a nomad and led a discreet life, declining to lecture or exploit his readers with seminars.
Twenty years after it was completed, Love and Pain, the second book by Thaddeus Golas, picks up where The Lazy Man's Guide to Enlightenment leaves off. It is a deeper investigation of his metaphysical message; a more modern and more complete look at his cosmic map — by some accounts his "masterpiece" !
Similarly, The Cosmic Airdrome, his third book, is a whimsical, light-hearted collection of aphorisms and poems; a great companion to The Guide.
The Lazy Man's Life is the long awaited autobiography of Thaddeus Golas.
Visit the official Thaddeus Golas website for more information, and unpublished writing samples.
Reviewing Love and Pain:
Love and Pain: A Postgraduate Course in DIY Metaphysics by Jason Stoneking, August 13, 2011
Like many people, when I first read The Lazy Man's Guide to Enlightenment (the now famous precursor to Love and Pain), my mind was opened to a whole new set of possibilities. But my hunger wasn't satisfied by this book alone. In some ways, it provided me with more questions than answers. I wanted to know the details of Expansion and Contraction. I wanted to see the blueprints for how Golas's view of the universe played out in every one of my daily pursuits. I wanted the full explanation for the practical application of the knowledge. And that's what I got when I opened Love and Pain.
Love and Pain is the next level, the class for the teachers. As the title suggests, it is with both tender compassion and merciless unsentimentality that Golas here elucidates the nature of our shared reality. He offers a completely unifying theory of atomic relationships that is equally applicable to everything from molecular biology to space travel, and also serves as a working overlay for our relationships to art, religion, philosophy and each other. Golas has succeeded in fully bridging the gap between the physical sciences and the various incarnations of spirituality. None of these things need be separated. None of the things that we think, feel, see or experience are mutually exclusive. And Golas deftly illustrates the way in which all these things make sense together. He gives us the information that has the power to pull down all the walls between selves and others, truths and lies, physics and metaphysics.
The only thing he can't do is decide for you whether or not you're ready to have those walls torn down. He doesn't presume to diagnose your level of preparedness for seeing the universe as what it really is. He doesn't provide a replacement lifeplan for those who rely heavily on mythology for a behavioral structure. But what he does do is arm us with a functional model of existence, a down to earth, easy to read, practical understanding of what it means 'to be'. And nothing he says contradicts any scientific or empirical data that we have accumulated as a species. Au contraire, he unites them with the subtle beauty that one recognizes in a mathematical formula when it is proved true.
If you really, deeply, want to know what's going on and how it affects you, if you really are ready to let go of all the partial answers we think we have, then this is your chance. Love and Pain is the book in which Thaddeus Golas finally turns all the lights on. But it's up to you whether or not you're going to like what you see.
The Lazy Man's Guide to Enlightenment (

Newly Revised Edition

)
Announcing the Re-release of Thaddeus Golas's 1971 classic manual on human consciousness - Back in its original format, compact, and updated for a NEW GENERATION of readers. This is it! Definitive, Complete, and Final edition, revised and updated by the Author ~ With 3 New and previously unpublished Chapters.
By author: Thaddeus Golas
Product Code: ccb-uk-001
ISBN: 978-0-9830574-0-6
Size: 5″" X 7.6″" Inches – 91 pages.
Availability:  Book in print/available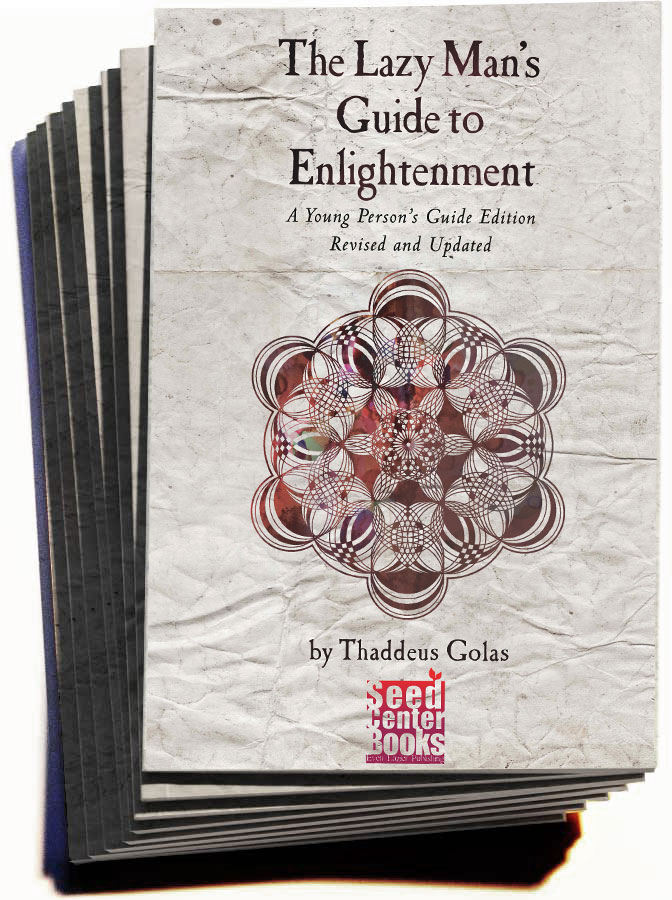 First published in Europe, available from Seed Center Books UK, this final, definitive edition of The Lazy Man's Guide to Enlightenment, also known as the Young Person's Guide Edition, features 3 new and previously unpublished chapters, "EXPAND!", "FREE WILL", and "WHO'S ON FIRST?", as well as an addendum to the book, "A Young Person's Guide to Enlightenment," with final conclusions offered by author Thaddeus Golas, as he paves the way for Love and Pain.
When late in life he revised and updated his text for a final Edition of the Guide, Thaddeus Golas chose to return the book to its original format, thin and unassuming, for a whole new generation of readers across the World. This is the most complete edition of The Lazy Man's Guide to Enlightenment to date. Some of the subtle changes in the vocabulary were meant to sidestep references to LSD and avoid some outdated 60′s vernacular, but Thaddeus Golas had also wanted to bring minor fixes to some of his earlier assertions about energy — assertions which, over the years, he described as "slightly mistaken." It was those very changes in his paradigm that brought about the writing of Love and Pain, his follow-up book.
3 New Chapters are meant to help readers deepen their understanding of "expansion," "contraction," and the role of the intellect our spiritual progress.
Latest Products
Product Highlights
Le Guide des Paresseux Illuminés
Le Guide des Paresseux Illuminés
de Thaddeus Golas