SEED CENTER BOOKS, then and now.
A Brief History of The SEED CENTER.
Seed Center: Transversus Abdominis – The low abdomen/anterior pelvis tilt where one can find inner-balance or "seed center" awareness.
Seed Center Books

was created in 2011 by film designer Sylvain Despretz in an effort to restore and preserve the manuscripts of American writer and poet Thaddeus Golas, author of
The Lazy Man's Guide to Enlightenment
.
In this age of information overload and cheerful, benign philosophies, it takes little, even for a masterful author such as Thaddeus Golas, to quickly vanish from the scene. So large is our neophile appetite for new ideas that the great media turnover crushes many gems of philosophy into oblivion after just a few years. Sometimes deservedly, and at other times, not. Thaddeus Golas was never featured on Oprah, almost never did interviews, and generally failed to capitalize on the New Age book bonanza of the last 30 years. He did not write about fame, or power, nor did he advertize a philosophical system that could manage our business, increase our profits, or "manifest" gimmicks into our mental delusions.

Thaddeus Golas only wrote about the Real McCoy!
Despite having delivered a game changer, The Lazy Man's Guide to Enlightenment, the most original, elegant, and compact metaphysical manual of the 20th Century, Thaddeus Golas died broke, and mostly forgotten.

But Thaddeus Golas was also a friend, and a kindred spirit to many, who, to this day, feel the urge to share his precious metaphysics. His books, if you get to them, are likely to be the most important you'll ever read.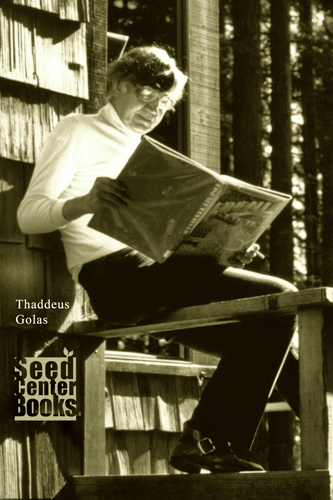 The '70s and Seed Center of downtown Palo Alto.

"Seed Center" was the name originally assigned to the space created in the backroom of the Plowshare Bookstore in downtown Palo Alto, California, when, in 1972, owners DeRay and Susan Norton agreed to publish and stock Thaddeus Golas' now famous little handbook on human consciousness; at the time, Thaddeus Golas had been reeling from a dispute with Joe Casey, the original publisher of the Guide, and had been looking for new investors. After Golas hit the jackpot, the Plowshare Bookstore became a new center of counterculture in the Bay Area, and the The Lazy Man's Guide to Enlightenment, the Bible of California-style spirituality.
Seed Center "saved the Guide", Thaddeus Golas later described in The Lazy Man's Life, his autobiography. For many years, fans of The Lazy Man's Guide to Enlightenment read the "Seed Center edition", which was widely distributed across California and in many other parts of the country.
The Nortons remained full-time publishers of The Lazy Man's Guide to Enlightenment until 1978, when Bantam Books contracted to co-publish the book with the Seed Center; this arrangement lasted until 1993 when Bantam Books cancelled publication. DeRay Norton eventually phased out of publishing altogether.
Now, as it was then, the friends of Thaddeus Golas have been instrumental in helping to restore his unpublished writings. They include former Yellow Submarine alumni Patrice Hanson and Bernie "The Cosmic Shrink", as well as lifelong friends Chips Janger, Columbia Alumnus Theodore Melnechuk, and present "Seedsters" Blair & Ramona Teagarden, and Lumin Egress.
Seed Center Books™ continues with the mission; indeed, forty years after Thaddeus Golas shook the world of metaphysics with his pamphlet, his work which was nearly discarded and lost, has been brought back to light. Those who read it are almost always unanimous: it is incredibly powerful, original, and well ahead of its own time.

The Seed sprouts a new leaf. It answers the call to present once again the work of Thaddeus Golas as the proverbial wheel turns; stay tuned! (There's more to come.)
Presenting New Books and CDs by Thaddeus Golas: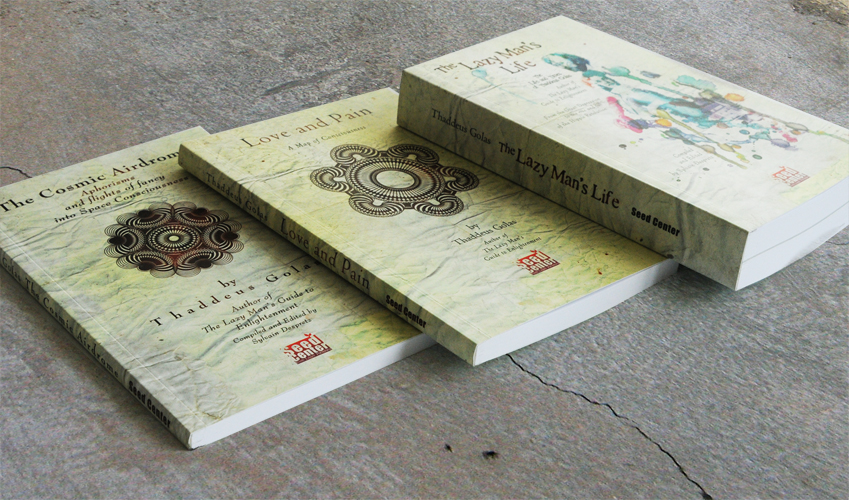 In 2010, a set of three previously unpublished books written by Thaddeus Golas was released by the newly reformed
SEED CENTER BOOKS
.
Love and Pain, The Cosmic Airdrome,
and
The Lazy Man's Life
(The Thaddeus Golas autobiography).
LOVE and PAIN:
A follow-up to The Lazy Mans Guide to Enlightenment or perhaps a final revision to it.
The Guide is still very significant to all those who sense the consciousness with which it was written but Thaddeus goes deeper with this new writing; he wanted leave behind a blueprint of his metaphysics that would withstand the test of time, beyond the euphoria of the '60s.
He was, after all, a self-described hard-nosed critic of the many charlatans of the New Age; he didn't settle for benign therapies that passed for 'spirituality.' For all the comfort that an uplifting book can bring to our imagination, Thaddeus Golas wanted to write a text that he would like to find for himself, or give to a good friend; information that is solid, and that can be relied upon, even when the Universe fails to sustain all our fondly held beliefs about it.
"I am a destroyer of ideas," he proposed, "and whatever I could not destroy is in Love and Pain."

Love and Pain is a major work, intricate and subtle. It is an audit of our beliefs, and a wake-up call. It is also revolutionary!
In time, it may come to be seen as one of the most important metaphysical books ever written; it is sure, at the very least, to illicit strong reactions from readers.
THE COSMIC AIRDROME:
The Cosmic Airdrome (not quite an "aerodrome") is a book of aphorisms and wisdom that you can open anywhere, to any page. It is a perfect companion to the Guide.
Thaddeus Golas collected his thoughts and diary entries over a period of twenty years. The cream of these philosophical gems, compact ideas, and graceful metaphors, is collected in one elegant volume that can work as a Rosetta Stone to many of Thaddeus Golas' ideas and visions as first delivered in The Lazy Mans Guide to Enlightenment.
The Cosmic Airdrome is a pocket companion, and friend.
THE LAZY MAN'S LIFE:
Thaddeus' autobiography is pulled from his diaries, emails and letters -- it is the account of his life, in his own words.
The Lazy Man's Life is not a book of metaphysics, but at 540 pages (complete with a 16-page leaflet of era color photographs) it covers much of the story of the journey from the Great Depression to the psychedelic '60s. It is a historical account of the birth of the philosophy movement in America; a parade of the era's greatest players: Timothy Leary, Baba Ram Dass, Steven Gaskin, Allen Ginsberg, and all the rest.
It features original poems by Thaddeus Golas, as well as a behind-the-scenes look at the creation of The Lazy Mans Guide to Enlightenment, and some definitive answers to the questions: "Was the book channeled?" and "was Thaddeus Golas a mere typist for higher consciousness?"

The Lazy Mans Life will leave you feeling like an expert on the psychedelic and metaphysical '60s.
A great read!
Hear the GUIDE read by Thaddeus Golas: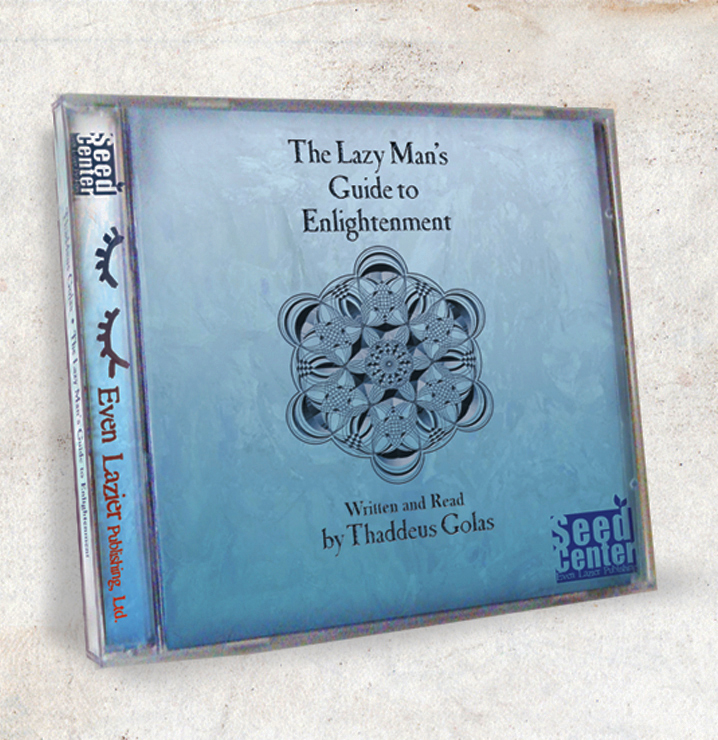 The Lazy Man's Guide to Enlightenment
was first published in 1971. It almost immediately became the must-have philosophy book of its generation. The impact of
"The Guide"
elevated its author, Thaddeus Golas, from a bit part in the Beat and Psychedelic movements to a lead role.
A recording of this classic book,
read by the author
, is now available as a remastered, quality 2-disc CD.
In this audio book, Golas updated his original text for a newer audience. He removed some of the outdated language. He also clarified numerous passages on the advice of his many readers. The
22 page color booklet
in this deluxe CD package highlights Golas' own updates and revisions. All told, the recording is a lovely testament, and a rare chance to hear Thaddeus Golas' voice preserved in this new stereo digital mix.
Having the book read to you, by the author, is
even lazier
.
More information about our products is available from
The SEED CENTER Publishing Website
.
* * *
Announcing the Re-release of Thaddeus Golas's 1971 classic manual on human consciousness - Back in its original format, compact, and updated for a NEW GENERATION of readers. This is it!
The Lazy Man's Guide to Enlightenment (

Newly Revised Edition

)
Definitive, Complete, and Final edition, Revised and Updated by Author Thaddeus Golas ~ With 3 New and previously unpublished Chapters.
By author: Thaddeus Golas
Product Code: ccb-uk-001
ISBN: 978-2-7466280-5-2
Size: 5″" X 7.6″" Inches – 91 pages.
Availability: Book in print/available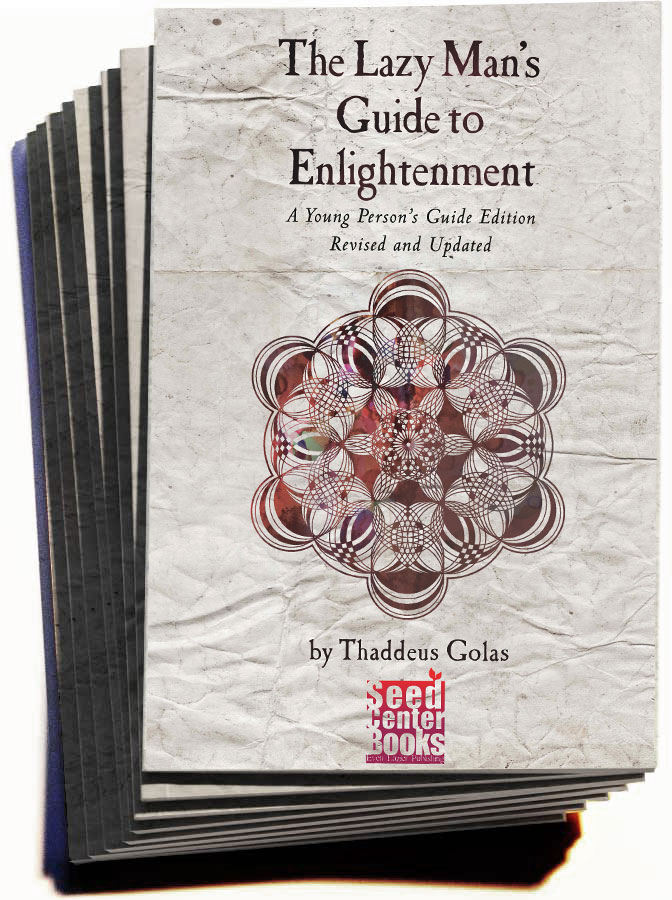 First published in the EU, available only from Seed Center Books UK, this final, definitive edition of The Lazy Man's Guide to Enlightenment, also known as the Young Person's Guide Edition, features 3 new and previously unpublished chapters, "EXPAND!", "FREE WILL", and "WHO'S ON FIRST?", as well as an addendum to the book, "A Young Person's Guide to Enlightenment," with final conclusions offered by author Thaddeus Golas, as he paves the way for Love and Pain.
When late in life he revised and updated his text for a final Edition of the Guide, Thaddeus Golas chose to return the book to its original format, thin and unassuming, for a whole new generation of readers across the World. This is the most complete edition of The Lazy Man's Guide to Enlightenment to date. Some of the subtle changes in the vocabulary were meant to sidestep references to LSD and avoid some outdated '60s vernacular, but Thaddeus Golas had also wanted to bring minor fixes to some of his earlier assertions about energy — assertions which, over the years, he described as "slightly mistaken." It was those very changes in his paradigm that brought about the writing of Love and Pain, his follow-up book.
3 New Chapters are meant to help readers deepen their understanding of "expansion," "contraction," and the role of the intellect our spiritual progress.
Reviews:
The Lazy Man's Guide to Enlightenment. By Thaddeus Golas. Seed Center Books UK. EU, 2011.
I AM Magazine, Quebec.
For those on the road still trying to thumb a ride, this book will show you how to make it on your own. There is no other way. Being the lazy man's lazy man, I quickly went to the last pages and back cover to glean the quintessential enlightenment offered in the excerpts. How can I be lazy and accelerate my vibrations to encompass all that wisdom in a flash, you may ask? Chapter 7 answers that If you're the kind of person caught up in sin, asceticism, rejection of earthly enjoyment, or other evidence of strict virtuous discipline, and are still having trouble being enlightened and in joy, this book is for you. It will shatter all your preconceived ideas about spirituality, If what you are doing isn't working…love it and leave it. In other words: let go and let God.
The Lazy Man's Guide to Enlightenment
lets you know you are already there. So what's the point of arrival? We exist on many levels simultaneously: from a being of concentrated mass (separateness, individuality), through energy being, to space being (oneness). How come, you may ask, most of us are only aware of the densest physical level? The answer is you can't be anywhere else until you love yourself where you are now. After all, it's a world of your own creation. As long as we reject anything we are tied to that one thing. Now that's karma! The only effective way to be free of anything, is to love. Accept yourself where you're at. If you hate or despise something, love yourself for despising or hating it. It's the E=MC2 of the Universe. Be there, then.
R.L.
* * *

For more information about our products, and about Thaddeus Golas, please visit

The SEED CENTER BOOKS Website

.